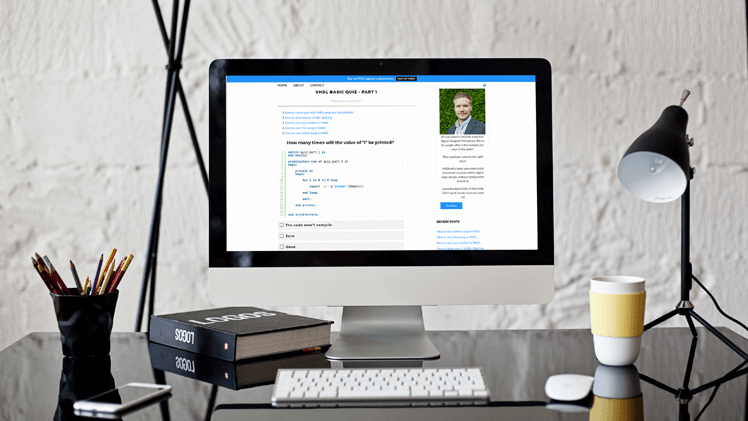 So you have completed the first part of the Basic VHDL Tutorial series. Congratulations! You are only hours and hours and hours away from becoming a genuine VHDL whiz. But you have completed the first step, and that's the most important part right now!
Before we go any further, you should put your skills to the test with this quiz:
What is wrong with this process?
It contains no Wait statement
---
Missing semicolon after "process is"
---
The process has no inputs
---
How many times will the value of i be printed?
How many times will this process print "Haha!"?

Depends on for how long we simulate
---
Is the use of exit; in this process legal?

No, "exit;" can't be used in For-loops
---
Yes, "exit;" can break out of any loop
---
No, it should be "exit for;"
---
Where can a variable be declared in this code?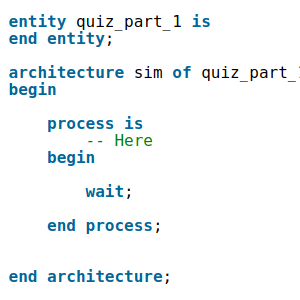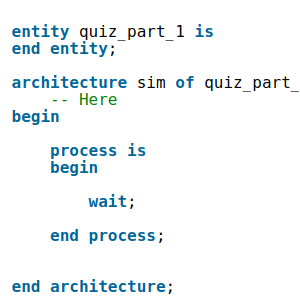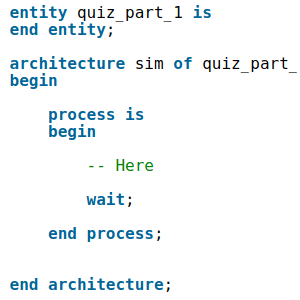 How much simulation time does the For loop take?
About 1000 ns if running at 100Mhz
---
Share the quiz to show your results !
Subscribe to see your results
Basic VHDL Quiz – part 1
I got %%score%% of %%total%% right
%%description%%